Personalised Job Title Oriented Water Bottles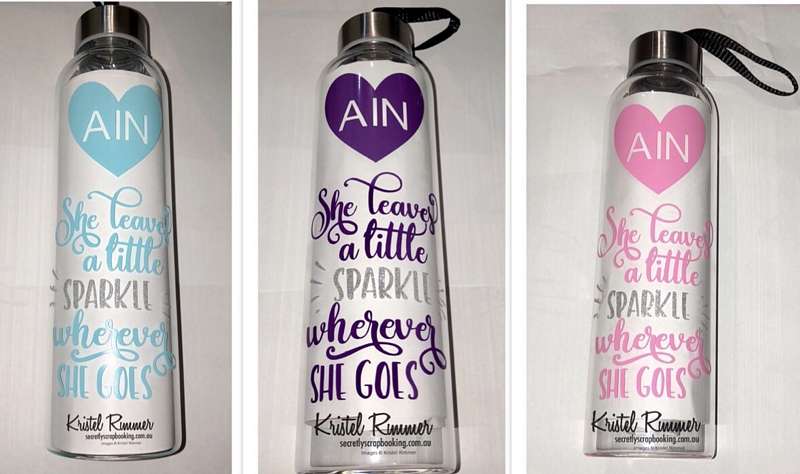 Hi and welcome to my blog post for some Personalised Job Title Oriented Water Bottles! These particular water bottles were created as gifts and are made of glass. They were given to some of my co-workers that helped me during work placment and the design adjusted to include different job titles. I often find that water bottles are a great gift, especially for those people who are quite active.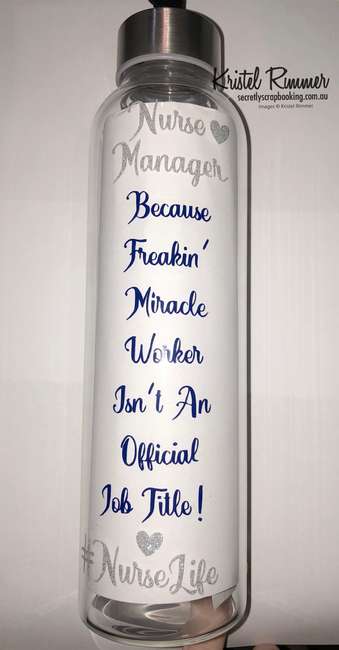 The glass style water bottle helps people keep an eye on the amount of water they have left, is easy to ensure that it is clean and doesn't retain odours for those who mix in cordials etc. Glass water bottles are a bit heavy and more fragile than plastic so they are primarily ideal for those who have desks, places to keep then while they are on the move or keep them in the fridge.
The designs shown in the images are licensed for commercial use and have been altered to make the designs unique and to include the glittered text as shown.
There are two designs shown including:
AIN She leaves a little sparkle whereever she goes; and
Nurse Manager because freakin' miracle worker isn't an official job title! #NurseLife.
Both of these designs shown are available for custom orders and can be adjusted to suit your needs. If you re interested in having a glass water bottle made then feel free to contact me regarding pricing and the design. If you are interested in having a different design I can make something unique and special for you. Also please note I can apply my designs to other styles of water bottles, mugs, glasses and so much more.
Thanks for reading my post and please leave a comment if you found this post helpful and maybe to help me discover what you ended up making. Now it's time for me to go back to Secretly Scrapbooking!
Stella Xx
Bunbury, WA
Stella Xx
Bunbury, WA
Secretly Scrapbooking Home | Shop | Candle Product List | Jump To Comments
---
Read Prev Post
Read Next Post