Looking For A Personalised Bereavement Candle?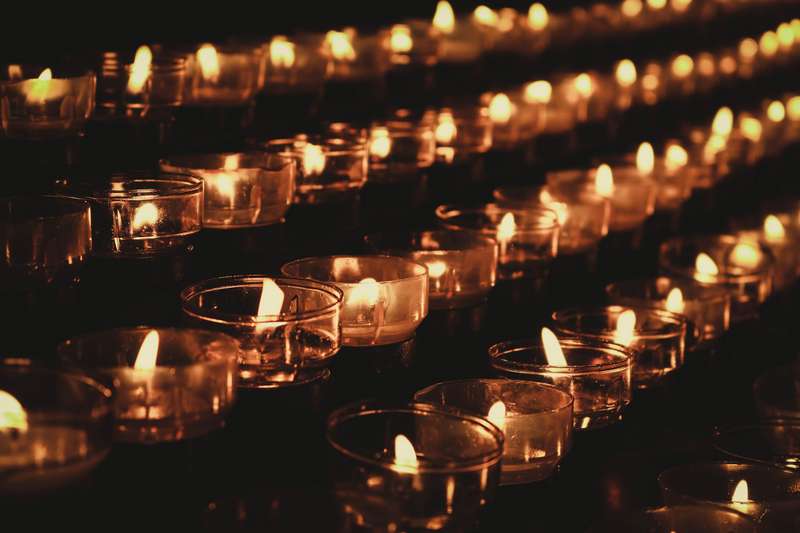 It is without a doubt a terrible time when someone passes and it is often difficult to find something special to remember those who have passed on. I design and create personalised candles for all occasions but find that many people purchase them for funeral ceremonies, as a gift or for their family to remember those who have passed on instead of flowers. In response to this I have recently been in contact with William Barrett & Sons Funeral Directors who were very excited to help me share my business with their clients! This new affiliation is very exciting and is a testament to William Barrett & Sons who already do so much in our community and with local businesses such as with their recent hosting of the Biggest Morning Tea. I would like to thank William Barrett & Sons for their support and I look forward to working with them to help their clients with making such a difficult moment in our lives as special as possible.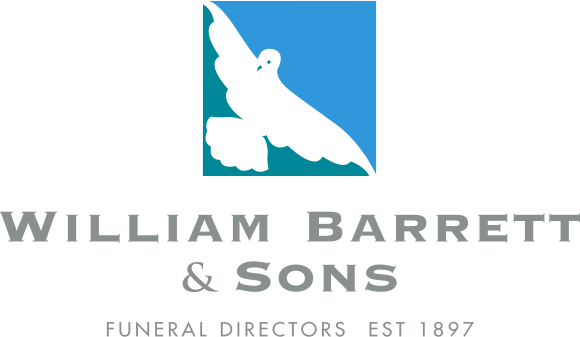 So what are personalised bereavement candles? Essentially, these are candles which are personalised with photos, images and/or text. These can be created using black/white or colour themes on either front, back or both. Some examples of candles I have supplied to William Barrett & Sons for display purposes are shown below. The designs are imprinted on candles from my standard range with the black and white design on a 12cm high candle and the colour design on a 15cm high candle.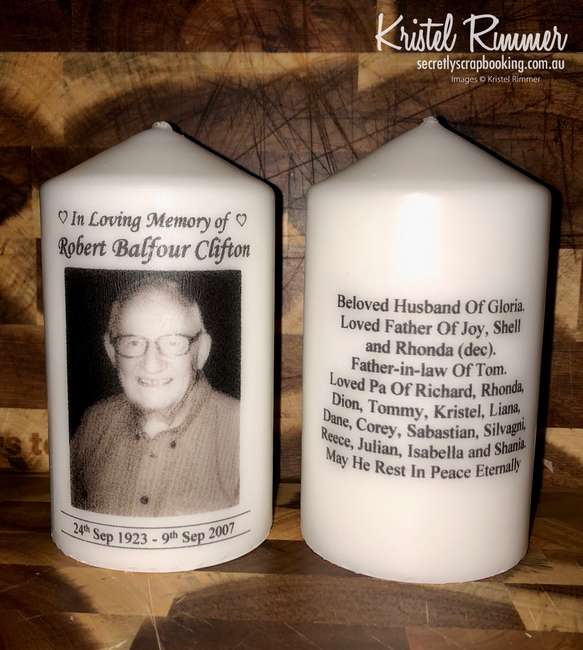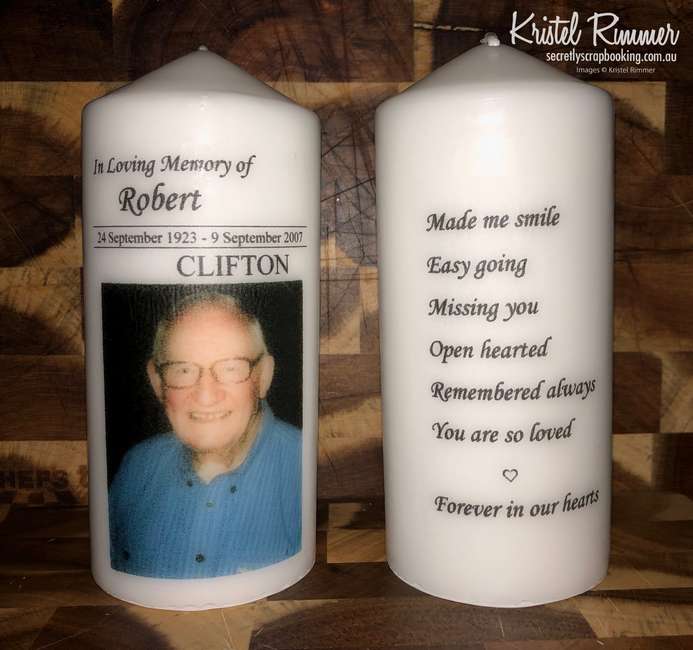 As you can see, the standard range of candles I supply have a peaked top and are also unscented. I do also have other types of candles, including scented candles, which are available on request. The standard range of candles includes white candles in three (3) sizes personalised front and back:
Small - 12cm high x 6.5cm diameter - $22;
Medium - 15cm high x 6.5cm diameter - $32;
Large - 23cm high x 7cm diameter - $42.
Note: Prices were increased effective 27th November 2018
Larger candles are better for large images / long text or for candles intended for extensive burn time. Selecting a candle will depend on your budget, the design and stock availability. Keep in mind that if you would like a different type of candle such as fragranced then contact me for costing.
It is understandable at this time that you have a lot to process so to make purchasing a candle a bit easier this is generally the information you will typically be asked for:
What is the candle for?
What do you want on your candle?
Preferences for size and budget.
Here is a guide on what to think about regarding what you want on your candle:
A photo on the candle?
Maybe you'd like just a word or some specific wording?
Would you like some ribbon or some embellishments? (This may cost extra)
Will the candle be burned as this may impact the design?
I have some standard design options available to make layout decisions simpler and I will send through a proof design for approval before creating the candle with the design. In the above example candles you would have received proofs that look like: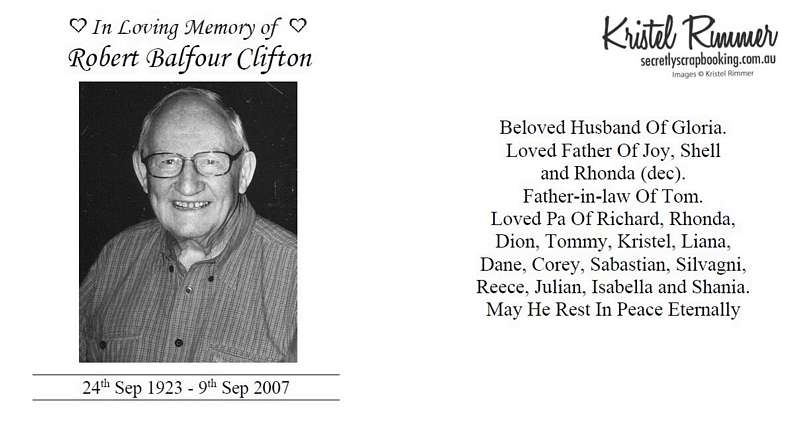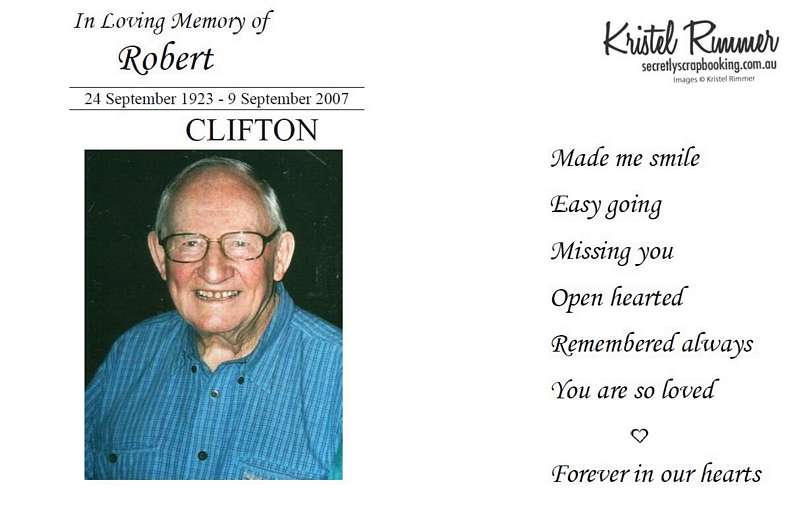 Some important considerations with persoanlised candles are:
Note 1
Putting images on candles is not the same as printing out a photo so the quality of the image will not be as precise. To get the best possible outcome it is recommended to get the best quality photo to start with. Digital images are preferred however it is important that the image is not obtained from an MMS / SMS message as this reduces the image quality. Ideally the image should be larger than 1.5MB in size, uncropped and should be sent via e-mail.
Note 2
Candles are made from wax which can, at the time of casting the candle, have latent imperfections which cannot be seen before we work on the candle. Candles are also soft making them susceptible to damage and hence Secretly Scrapbooking cannot guarantee that all candles will be without minor imperfections. We endeavor to obtain and use candles that have few imperfections but it isn't always possible to do so. Given these circumstances we advise that we will only rework, replace or provide refunds where imperfections are significant.
If you find yourself interested in purchasing a personalised candle then please feel free to contact me about your needs and I'll be happy to help. Thanks for reading my post and please feel free to leave a comment. Now it's time for me to go back to Secretly Scrapbooking!
Stella Xx
Bunbury, WA
Stella Xx
Bunbury, WA
Secretly Scrapbooking Home | Shop | Candle Product List | Jump To Comments
---
Read Prev Post
Read Next Post