Happy Planner For Your Health And Wellbeing (Healthy Hero)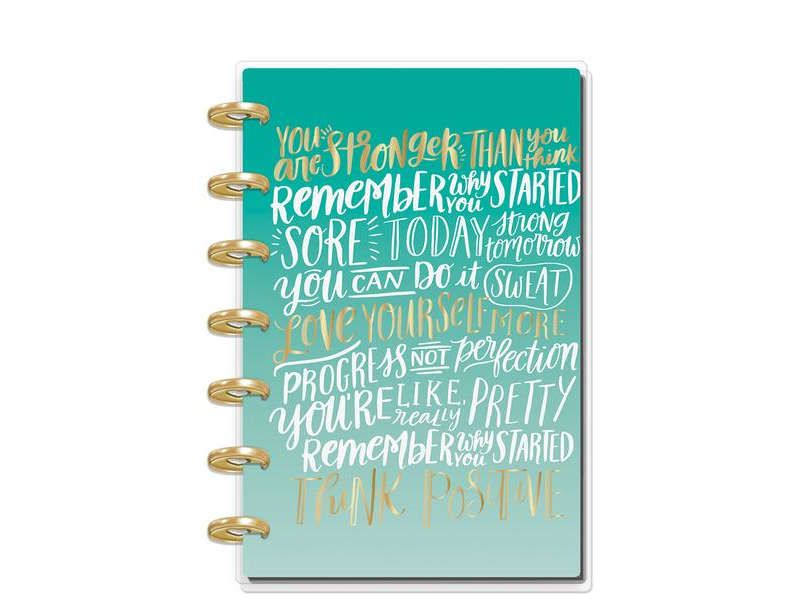 With the new year commencing our minds turn to our goals, what we have achieved and what we hope to achieve. For many, this is a time when we look to our health, our wellness and our wellbeing. In the case of the planner addict we look to our planners to align with our lives, to embed our goals, to track our progress and inspire us to continue. In 2018, MAMBI released a series of Limited Edition Happy Planner Girl Healthy Hero Deluxe Planners and planner accessories for 2019 which are aimed specifically at Health and Wellbeing planning. In this blog I will be showing off the mini version of the Healthy Hero series planners which is called the Mini Deluxe Happy Planner® - Healthy Hero (2019) and has the SKU PLNM-98.
Happy Planner describes the Healthy Hero as follows:
"Who is Healthy Hero? She's the health nut, the girl who loves her body  and loves taking care of it. Her favorite accessory is her hair tie and  considers a gym bag her purse. Loves starting the day with avocado toast  and a yoga session."
The Healthy Hero Planners are similar in both the Mini and Classic series with a few key differences. Both the mini and classic version are very focused on Goals, Mind, Body and Yourself and they bring these together how they style the planner monthly focus pages and in how they structure the weekly pages. The monthly focus or goals page is styled into a single page and includes the following headers:
Goals (Three (3) per month)
What Inspires Me (Grid)
How I'm Strengthening My Mind
How I'm Strengthening My Body
What I'm Loving About Myself
Key Dates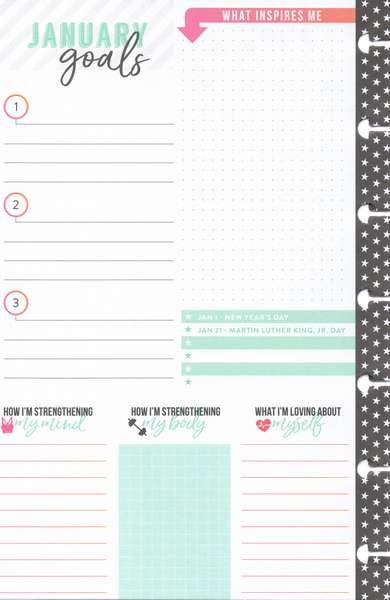 I feel that having this style of monthly focus page is great for those wanting to keep on top of their health and wellbeing by giving you alot of targeted space for each aspect. It is nice that goals and inspiration make up a significant portion of this page in that it helps remind you that motivation is the majority of the battle in keeping on top of your health and wellbeing journey...well it is for me at least. While this is a goals page it is also a great place to begin reflection on what you are doing well and what is working or not working for you. In any great plan, reflection is the key to making it better in the future and remember that a plan is an ideal commitment but it is not reality. Remember, reality is more fluid and chaotic than a plan suggests so it is important to forgive yourself if they don't align.
We are then presented with a monthly view which is fairly simplistic but it does help split goals from priorities where it provides space to define your priorities aside your month outlook using a grid of days. This is great in that it helps you define what you need to achieve Vs what you hope to achieve which belongs on your goals page.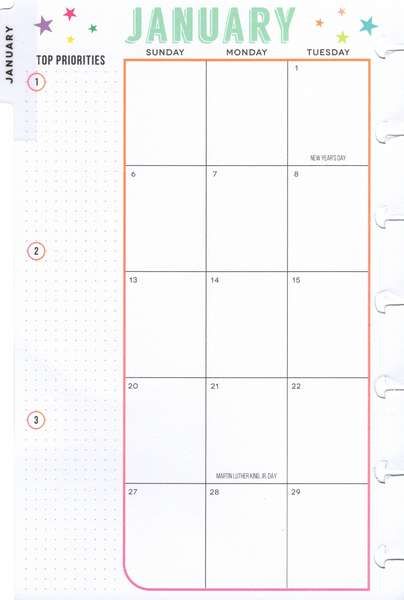 As you can see in the image, your monthly view spreads over two pages and the left hand side page contains the "Top Priorities" section which has room for three (3) priorities. The use of a dot grid is not my preference but it is certainly better for those intending to use stickers or who prefer to free write or draw. What you may also notice is that MAMBI includes US Holidays in their Happy Planners, I tend to take a bit of time when I first get a planner to overlay stickers over the holidays and put the Western Australian holidays in with writing or stickers if I have them..each to their own. The Monthly View boxes are a reasonable size measuring approximately 0.9in wide x 1.2in high (2.4cm wide x 3cm high) and you would require a sticker at least 4mm high to cover the US holiday text.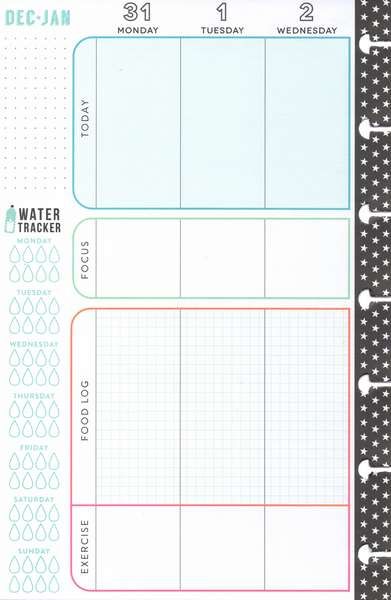 The Weekly View offers a special vertical layout, only available in the Healthy Hero planners which is made up of sections:
Weekly Goal (Left Side Top)
Water Tracker (Left Side Bottom)
Today
Focus
Food Log
Exercise
The Weekly Goal as I've called it, is actually a dot grid section that doesn't have a header in the Mini version but is called this in the Classic version. The Weekly Goal helps you keep on top of what you want to achieve that week and allows you to be creative about how you use this space. The water tracker is something that seems to have entered into most health and wellbeing platforms and essentially lets you track water in increments that you decide i.e. 250ml or 1L or whatever...it is up to you. From here you have a section dedicated to focus, it is my assumption that this is used to allow you to identify what is important to you that day such as the type of exercise, mind, body, myself, task or however you choose to use this section. The page then breaks into a Food Log and Exercise section which is used to track what you consume or energy intake on any given day Vs the exercise you did or the energy you used. At the end of the month you will be presented with a Notes page which is lined and can be used as you choose.
The Weekly View boxes are a reasonable size measuring approximately:
Today - 0.9in wide x 1.9in high (2.4cm wide x 5cm high)
Focus - 0.9in wide x 0.89in high (2.4cm wide x 2.3cm high)
Food Log - 0.9in wide x 2.25in high (2.4cm wide x 5.7cm high)
Exercise - 0.9in wide x 0.9in high (2.4cm wide x 2.4cm high)
Note: Sundays have a rounded edge with a 4mm radius (i.e. 2cm wide before the curve starts)
While I like the structure of the Weekly View, it begs the question as to whether the classic version is a bit big to suit someone on a health and wellbeing journey. You would likely need to have your planner handy in order to update it as you consume water, food or after exercise unless you kept track of it elsewhere and update it when you were able to access your planner, to me the mini would appear to be the best fit but each to their own.
At the end of the Weekly View sections is another section which is a section split into two:
30 Day Self Care Challenge
Take Time To Reflect
The 30 Day Self Care Challenge is an interesting addition and has a list of 30 challenges for you to choose from and is followed by five (5) 30 day challenge pages which encourage you to focus on one or more challenges for 30 days each page. By my count this is 6 challenges per page to do all of them so I encourage you to think about splitting the pages into two somehow to allow you to use each one at least twice giving you ten months.
The Take Time To Reflect section is a set of six (6) pages suggesting that this be done every two months...normally I would think that this would be an every month thing but again...not enough pages. It is broken up into:
Date
Best Moments To Remember (Room For Four (4))
Grateful For (Recommend Three (3))
What Inspires Me (Recommend Three (3))
How To Spend Time Unplugged
Favourite Way To Practice Self-Care
Grid Paper (Back Of Page)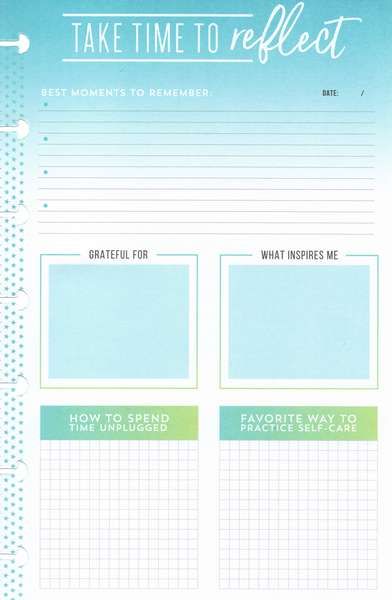 I like the Best Moments To Remember, Grateful For and What Inspires Me sections but to be honest I am a little confused about the last two sections. What initially confuses me is that their tense is incorrect and should be How I Spent Time Unplugged and Favourite Ways I Practiced Self-Care and even so I am not sure that these really fit with the concept of wellbeing reflection. In my eyes, wellbeing reflection should encompass what was good and/or successful in the past, personally I see myself changing the headings with stickers to promote celebration of success instead of things that don't motivate me or give me a sense of achievement.
If you are on a health and wellbeing journey this year I wish you goodluck and I hope I have helped you decide if the Healthy Hero is the planner for you. While many people choose this journey and find that they can't sustain it I feel that often this is the case because they lose their motivation and inspiration. For me, using a planner helps me keep excited and on track and gives me a creative outlet to keep me excited about filling it with all the wonderful things I want to do as well as reminding me of how far I've come. If you are inspired and feel that this planner is right for you then please check out my store to get your hands on one and all the lovely accessories for them while they last...they are Limited Edition after all.
You can find the Mini Deluxe Happy Planner® - Healthy Hero (2019) at:
https://shop.secretlyscrapbooking.com.au/product/mini-deluxe-happy-planner-healthy-hero-2019-429217
Thanks for reading my post and if you found this post helpful maybe Like my Facebook page or leave a comment on Facebook for me to read. Now it's time for me to go back to Secretly Scrapbooking!
Stella Xx
Bunbury, WA
Shop | Custom Orders | Candle Product List
---
Read Prev Post
Read Next Post