The OnStage Experience In Melbourne 2017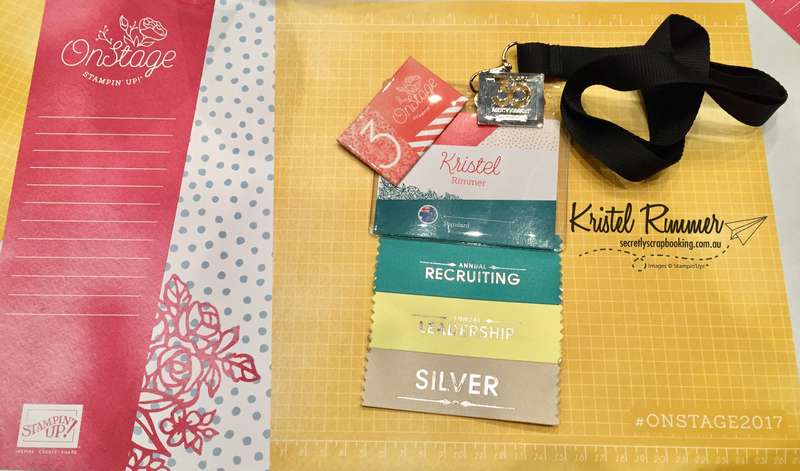 Welcome to my blog post on my OnStage experience in Melbourne 2017. I would just like to share a little bit about the OnStage event and what it was like for me and the people who attend. This was a great event for me as it had little of everything I love about the events and a few things I didn't like. I was lucky enough to be given recognition at the event for staying a silver demo, acheiving leadership and for acheiving recruitment. I have been lucky to recruit a wonderful downline more than 12 months ago, Coriana Boothey, who was unfortunately unable to attend but was always on our minds. Being recognised at OnStage is a nice touch to a day that is usually pretty full on and gives us something to take away from the day other than products.
This time OnStage was in Melbourne which is a double edged sword with it being alot of travel, rushing, little sleep but with the benefits of a holiday, a group of friends to share my time with and all that a different city has to offer. OnStage was located at a stadium roughly 20 minutes walk from where I was staying and while I appreciate the ability to walk, by the time the event came around my poor legs were begging for me to stop with 8 days of 16km walks behind me. As the event approached I, like all the other demos I knew, barely slept with the excitement with me waking suddenly to check the time every hour or so. On the day I proudly put on my Paper Adventures shirt our team was all wearing (designed by Kelly Kent), grabbed my water bottle that Kelly Kent had given me the day before and ran downstairs for a photo in the park across the road called the Treasury Gardens.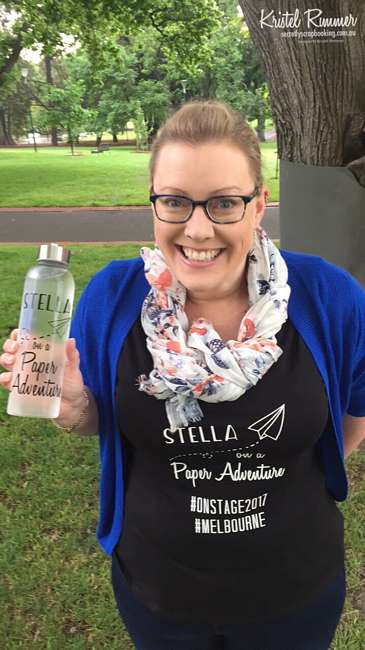 Here is me, moments before I started wandering to the meeting place for our team who would walk together to the stadium. It is a blur of faces, excited banter as we line up to get our name tag / lanyard and gift bag with random meetings with people who know my name or I know theirs. It is a time for swaps and I find myself doing a couple until we got inside where I seek out those people who are sitting down, or seem to be by themselves to swap with first. I thought it would be nice for those who found hard to get around to swap with although I had plenty to go around. You can see the swaps I prepared in my previous post Onstage Melbourne November 2017 and these went to demos with and without things to swap. I collected so many swaps and in the rush of the day you often don't have much time to really look at the swaps you collect which is part of the fun when you get home. I received some really kind messages from demos who had received my swaps and thank you to those who took the time to reach out to me after the event, it is appreciated. Before we mosied on into the venue we took the time to hit up the photo booth and here I am with Mandy Depiazzi another fabulous team member: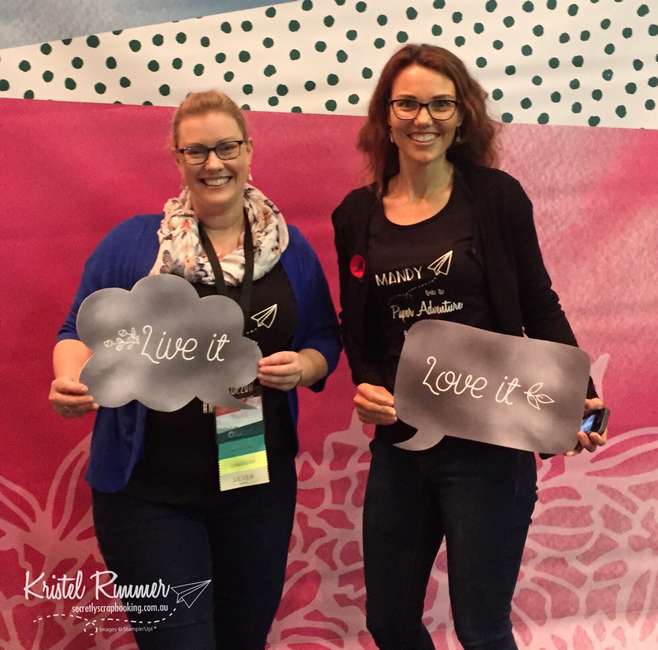 Once all the pre-event socialising had died down with me sitting at my table, I then took the time to check out what was in the gift bag I was given. This years gift bag contained a coffee mug, a planner / diary, two (2) pens and a stamp set. You'll notice in my picture below that there is more there than what I have said and these were items I collected throughout the day which includes the prize patrol which is event specific.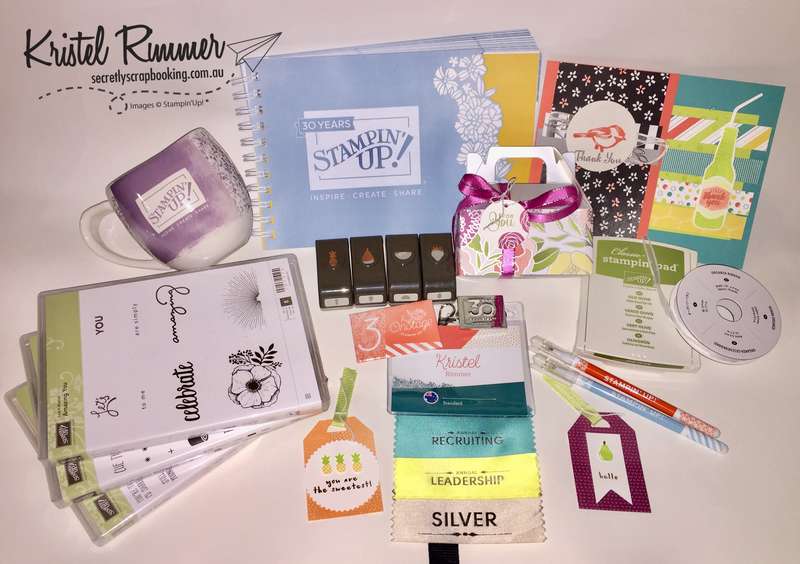 As you can see I received many goodies and I'm super excited to try out these with so many ideas already in the making. One of the perks of attending OnStage is the ability to see the new catalogue ahead of time, in this case the Occassions and Sale-A-Bration catalogues. When you receive a new catalogue who can really pick one up without first getting a photo of the happy go lucky scrapbooker that could, holding it up and smiling like they just got their first present...here is one of me: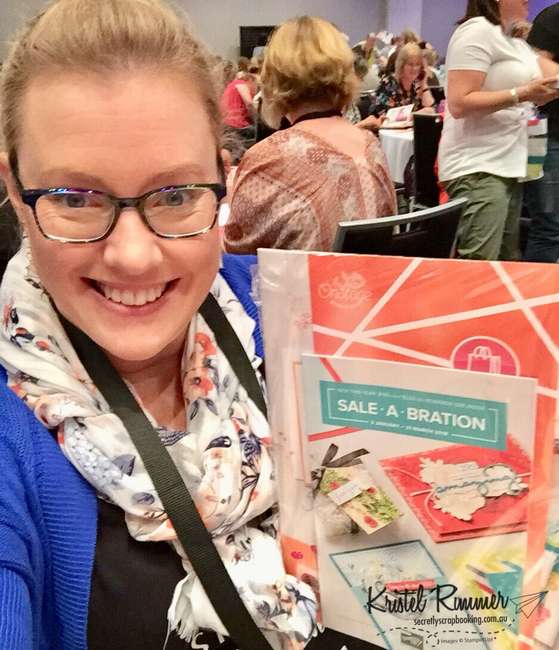 There are so many fantastic products in these catalogues which I myself can't wait to buy...and restricted pre-order is another perk OnStage attendees receive. As I write this post my order on it's way here but it is missing something I want but isn't yet available.

The item that isn't yet available is in fact the Stamparatus, a weird name but it kinda is what it says. This is a product that is unique and will change the way you stamp, soon you'll wonder how you got by without it! Why do YOU need one? You'll fall in love with stamping all over again when you learn everything you can do with it! This was announced at OnStage but isn't available for purchase immediately, you can only place a reservation with three (3) reservation windows announced. The first reservation window is between the 17th November and 30th November which will have the item delivered in February 2018. The Stamparatus retails at $85.00 AUD/$99.00 NZD which is not a bad price for what this tool can do. Stampin' Up! has released a YouTube clip to tell you all about it and a GIF to show you briefly what it's all about:
If you are interested in reserving a Stamparatus and want to know more about the tool, how to reserve one or when the reservation windows are then please contact me.
No OnStage event should go by without your team getting a happy snap and as you can see I like to break the rules and challenge the status quo by wearing a blue cardigan and a signature scarf although, Anne came a close second: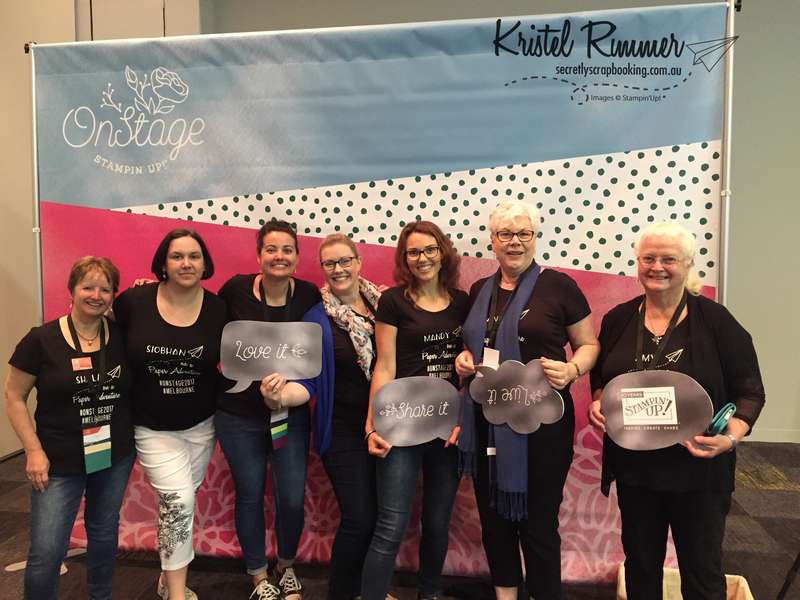 It's great to have such a wonderful group of ladies that all share the same love of papercrafts. Thankyou for reading my blog post but now it's time to go back to Secretly Scrapbooking!
Stella Xx
Bunbury, WA
Join | Shop | Candle Product List
---