Secretly Scrapbooking Blog Launch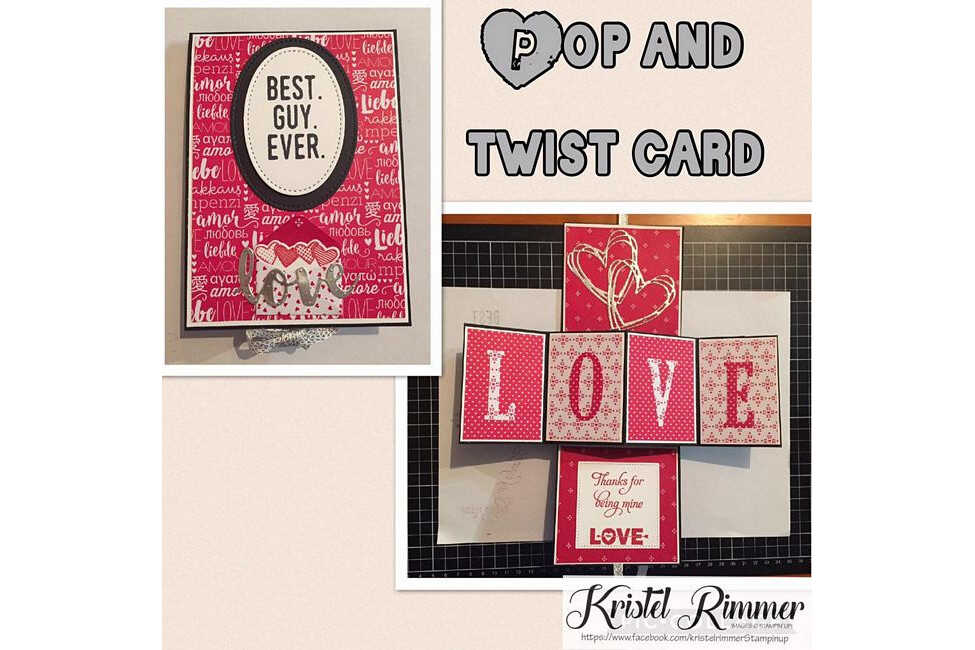 Image copyright 1990–2017 Stampin' Up!® - Pop And Twist Card
Hi all,
My name is Kristel and I am a long time scrapbooker / card maker as well an Independant Stampin' Up! Demostrator. This is my first time blogging so bear with me please as I fumble my way through this.
For those who are reading this that are wondering what Stampin' Up! is, it's a worldwide scrapbooking product provider who sells products through consultants and not through stores. I am a consultant for Stampin' Up! which allows me to buy products direct or to order products for other people. I have added a link to my menu bar for additional information and one for ordering but you are welcome to contact me directly for either.
Lately I have been expanding my creativity to making products for markets which has resulted in me expanding into making scrapbooking objects such as boxes, notebooks, calendars and all sorts. This has really been fun and interesting as I have been really pushing myself to take on projects that have been harder and outside my comfort zone.
I also recently took on my first couple of downline consultants which has been great as I've been able to share my passion and help them explore this as a hobby whilst also encouraging them to achieve this in a cost effective and sustainable way. Hi Coriana if you are reading this :)
I am also excited to announce that I recently ran my first class for three Stampin' Up! Demonstrators to create a "Pop and Twist" Card using improved instructions from a Youtube video posted by the user known as JanB. This was a great project and a fun card to teach which has also attracted attention from other people who are also Stampin' Up! Demonstrators, friends, family and other people I have networked with for years.
These events have inspired me to start blogging which I did with the assistance of ActsIntuitively who helped me get this blog online and running...thankyou guys sooooo much as you made this a relatively inexpensive and easy exercise :)
I'll start blogging some more soon subscribers but in the meantime feel free to peruse my facebook pages for my creations.
Stella Xx
Bunbury, WA
Join | Shop | Candle Product List
---