Paper Adventures Team Swap For July 2017

Welcome to my Paper Adventures Team Swap For July 2017 blog post! We have a regular team get together for a meeting and to swap a few creations every month which also usually involves a "make and take" where we complete a project which the host sets up.
Note: This blog post contains products purchased from Stampin' Up!®.
Today I thought I would share the Mini Explosion Purses I made for the team swap. I thought these Mini Explosion Purses were super cute and they were really easy to make. As we had a choice on what we could make for our swap I wanted to make a little gift this time rather then a card as is usually the case. Being part of this team is fantastic everyone is always helpful and excited to be at our team meetings and participate in team swaps.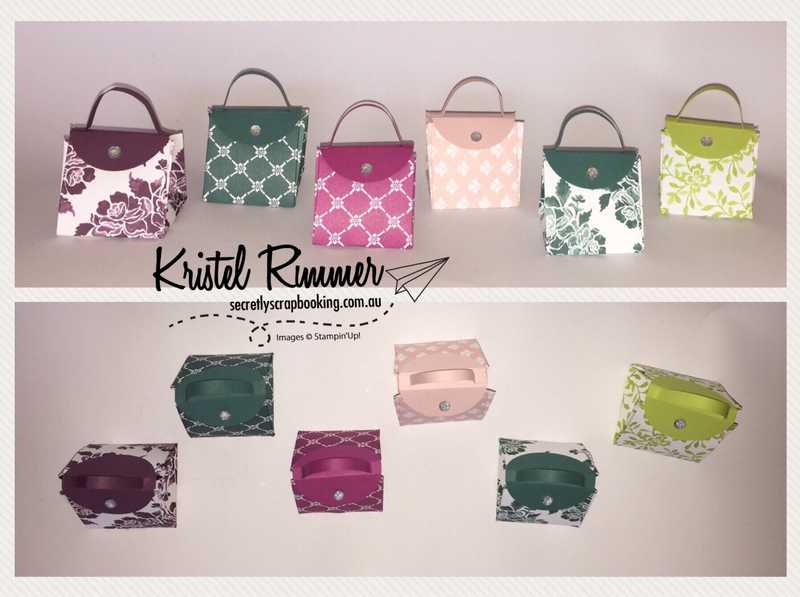 I chose to use the In Color cardstock, Fresh Florals DSP and the matching ink to stamp on the inside to make the Mini Explosion Purses. As I had six (6) purses to make and wanted each one to be slightly different I used a different colour cardstock, matching DSP and sentiment for each. Each little Purse uses a 6 x 6 piece of DSP, and a couple of small pieces of cardstock. The colours I used are by name:
Berry Burst;
Fresh Fig;
Lemon Lime Twist;
Powder Pink; and
Tranquil Tide.
I also used a small magnet for the closure of the purses so that when you fill the purse it stays closed. The gift I chose to put in each purse was a Ferrero Rocher.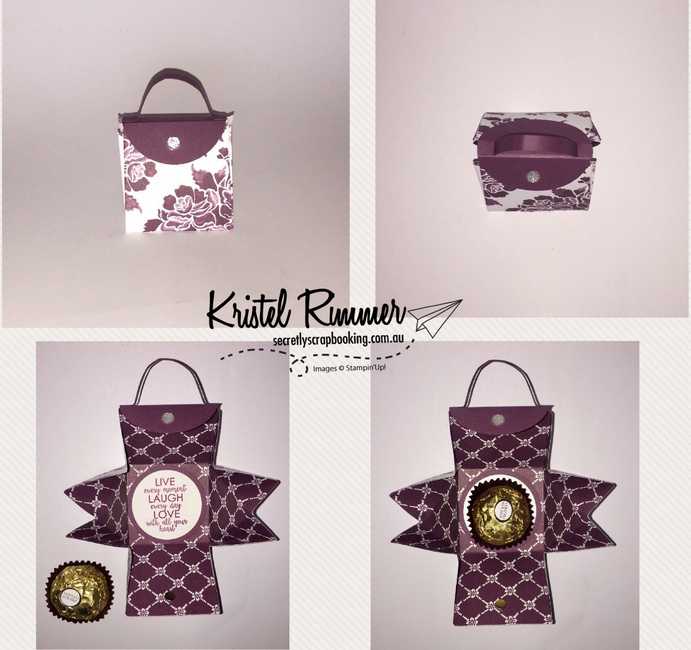 I really loved this Mini Explosion Purse as when you lift the Ferrero Rocher out there was a cute little saying / sentiment underneath. These sayings / sentiments are from the Ribbon Of Courage stamp set and the Beautiful Bouquet stamp set. This would be perfect for so many occasions.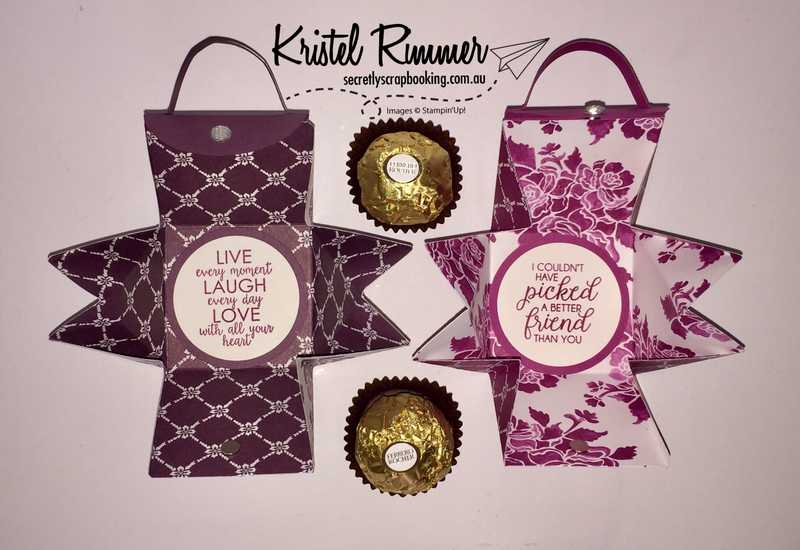 Hopefully you feel inspired to try making one of these Mini Explosion Purses too. Be aware that to make these I used the following YouTube links as a basis for my designs:
If you are interested in finding out more about what I made, would like to have something made for a special occasion or simply want to talk crafting then feel free to contact me. Now it's time for me to go back to Secretly Scrapbooking!
Stella Xx
Bunbury, WA
Join | Shop | Candle Product List
---