Paper Adventures Team Blog Hop 2018 - Masculine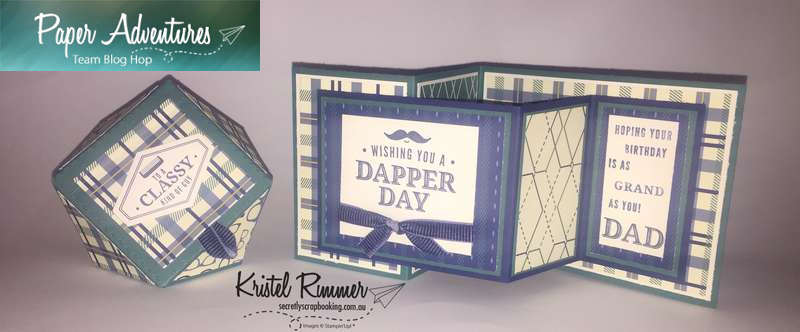 Hi and welcome to my first Paper Adventures Team Blog Hop Post for 2018! This blog hop is showcasing a masculine theme which is always challenging but fortunately in the Stampin' Up!® Occasions Catalogue there are some really nice stamp sets that suit this theme and make it a whole lot easier. I had the good fortune of having my father's birthday just before this blog hop so I had a great reason to go all out.
Note: This blog post contains products purchased from Stampin' Up!®. The latest catalogue is here.
I decided to make a Double Z card as I haven't made one of these for a little while and I wanted to show off the different papers out of the True Gentleman DSP. For this card I used Night of Navy, Tranquil Tide and Very Vanilla cardstock complimented by the sentiment and wording stamped in Night of Navy. I used the Truly Tailored Stamp Set for this card which fits in perfectly. As you can see, the internal wording is a long stamp broken up by using the Night Of Navy Stampin' Write Marker from the Regals Collection to ink parts of the stamp. I finished the front of the card off by using the 3/8" (1cm) Corduroy Night Of Navy Ribbon and lifting the sentiment with dimensionals.
I thought it would be great to do a little gift box filled with chocolates to go with the card as everyone loves chocolates. This little gift box was super easy and super cute, made using the envelope punch board. To keep this in theme I used Night of Navy, Tranquil Tide and Very Vanilla cardstock complimented by True Gentleman DSP. I stamped the sentiment with the Truly Tailored Stamp Set and cut out this sentiment with the Tailored Tag Punch. I cut the box portal and flap out usig the Layered Square Framelit Dies which helped keep it looking neat. I used some magnets to keep the flap closed and attached a piece of 3/8" (1cm) Corduroy Night Of Navy Ribbon to make it easy to open.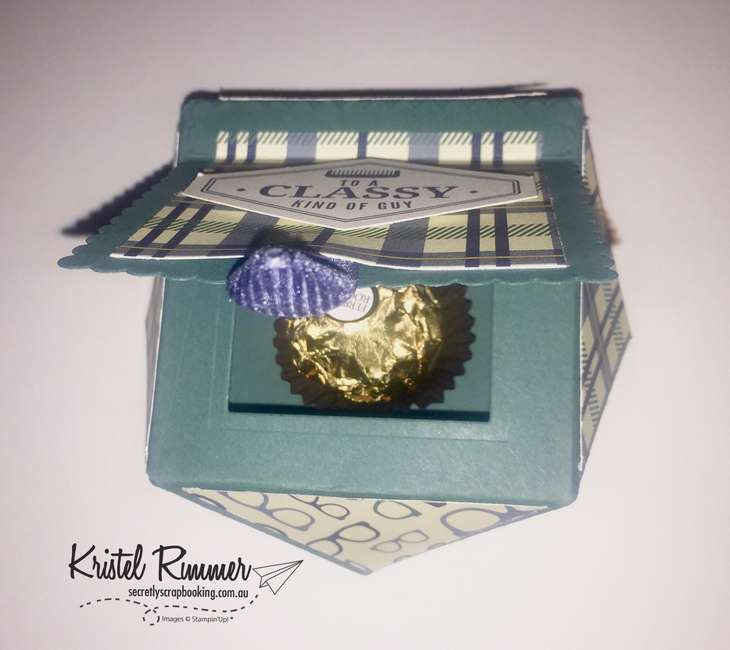 I wanted to make something for my dad which was unique and something he could treasure and knowing how much family means to him I thought this would be the best gift of all. I used a non stampin' up! product to transfer a photo onto a precut wood plaque which takes alot of patience and time but very well worth it. While I followed the instructions I didn't have the type of printer needed which lead to the end result coming out looking vintage which I was still really happy with especially for a first attempt.
I hope this post has given you some inspiration to create your own masculine themed items or even to make something outside your comfort zone. I have listed the YouTube links below that I used as a basis for my design:
Thanks for reading my post and please leave a comment if you found this post helpful and maybe to help me discover what you ended up making. I hope you enjoy reading the next post when you hop over to our next lovely participant, Mandy Depiazzi. Now it's time for me to go back to Secretly Scrapbooking!
Stella Xx
Bunbury, WA
Join | Shop | Candle Product List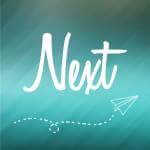 Secretly Scrapbooking Home | Jump To Comments
Participant List:
1. Kelly Kent
2. Jenny Hall (Guest Designer)
3. Kristel Rimmer
4. Mandy Depiazzi
5. Sheila Pybus (Facebook)
6. Joanne Gaff (Facebook)
7. Anne Barker (Facebook)
8. Coriana Boothey
9. Siobhan Fitzsimmons
---
Product List
---