Paper Adventures September 2017 Team Blog Hop - DSP Theme!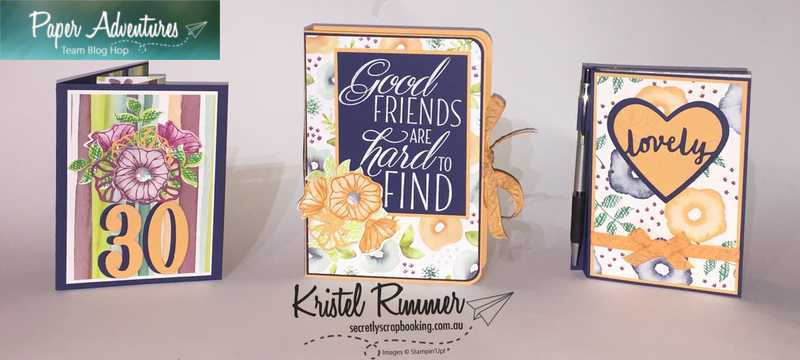 Hi and Welcome to the Paper Adventures September 2017 Team Blog Hop! I Hope you have enjoyed looking at our lovely guest designer Marian's blog post and I would like to thank her for joining us for this blog hop. It was decided for this blog that we would go with a theme using Designer Series Paper (DSP) and I will be showing off some DSP I haven't used yet and also show how you can make your own. I thought it would be great to look at doing another project that was comprised of a box, a gift and a card as I really love making these and in this case it is a 30th Birthday gift.
Note: This blog post contains products purchased from Stampin' Up!®. The latest Catalogues are here.
I often spend loads of time looking at Pinterest, YouTube and various other platforms searching for that inspiration for the next project/gift. I have to say that this time I didn't allow myself quite enough time but once I started I couldn't stop...suddenly its 2am...totally worth it! So to start I'm going to show off the Naturally Eclectic DSP and the Book Box (aka Card and Notebook Box).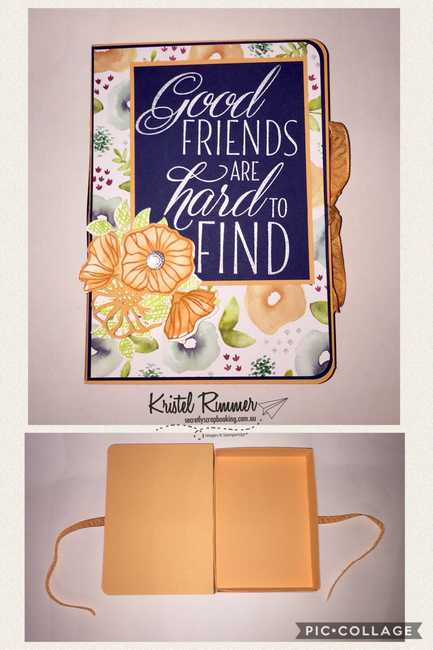 This Book Box I thought was a fantastic idea which can store multiple items such as cards and envelopes, notebooks or even a small gift as it is about one (1) inch deep. I chose the Naturally Eclectic DSP to use as I really liked the colours, the Oh So Eclectic Stamp Set matches quite well and is inline with the theme. As I needed to make a gift for a 30th I thought this Book Box would be perfect as it can be used to package the gift and also protect it in between use. As this Box has layers on the front and back as well as a layered internal box it makes it quite sturdy. I love how on the side it can be tied closed with the ribbon too. Please be aware the ribbon I have used is retired as I didn't have any Peekaboo Peach ribbon that was current. For the sentiment on the front I used a layer of Peekaboo Peach cardstock, Night Of Navy cardstock and white embossed the sentiment from the Lovely Friends Stamp Set. I built the Flower embellishment using the Eclectic Layers Thinlits, Oh So Eclectic Stamp Set and Faceted Gems Clear Embellishments.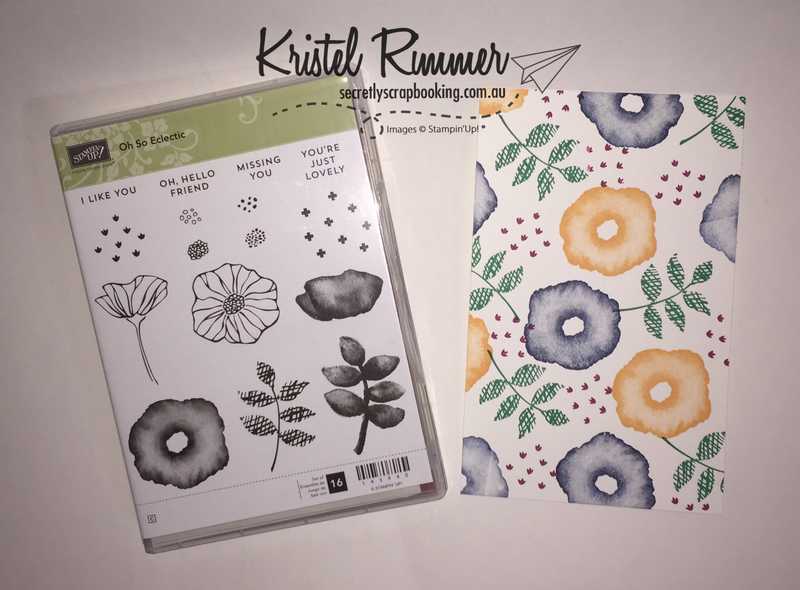 I wanted to show you if you are running short on your Designer Series Paper that you can create your own "Designer Series Paper" using stamp sets. I decided I would make my own "Designer Series Paper" for my notebook. I used Night Of Navy, Peekaboo Peach, Emerald Envy and Fresh Fig Stamp pads as I wanted to match in with my Book Box. Its super quick and easy to make your own "Designer Series Paper" and you can make it look however you want...Its always unique!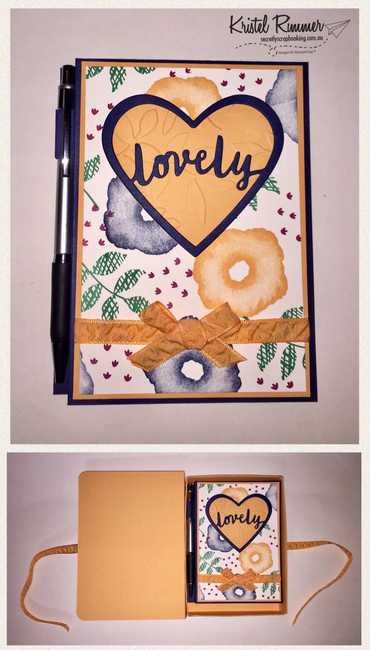 Now let me show you my notebook. I have attached the YouTube link below... but I warn you now that you will need some time to work out measurements to suit the size of your own notebook that you wish to cover. I definately recommend that you trial on scrap/printer paper before moving onto your beautiful cardstock. I really liked this notebook as there was a space for you to add your pen but I think next time I might add some magnets or ribbon to this design so it has a closure and is a little more sturdy. The embellishments I used on the front was a piece of Peekaboo Peach cardstock which I ran through the bigshot in the Layered Leaves Dynamic Textured Impressions Embossing Folder, also used the Night Of Navy cardstock which was also run through the bigshot with the Sweet & Sassy Framelits and Lovely Words Thinlits. Finished off with Peekaboo Peach ribbon (Retired item).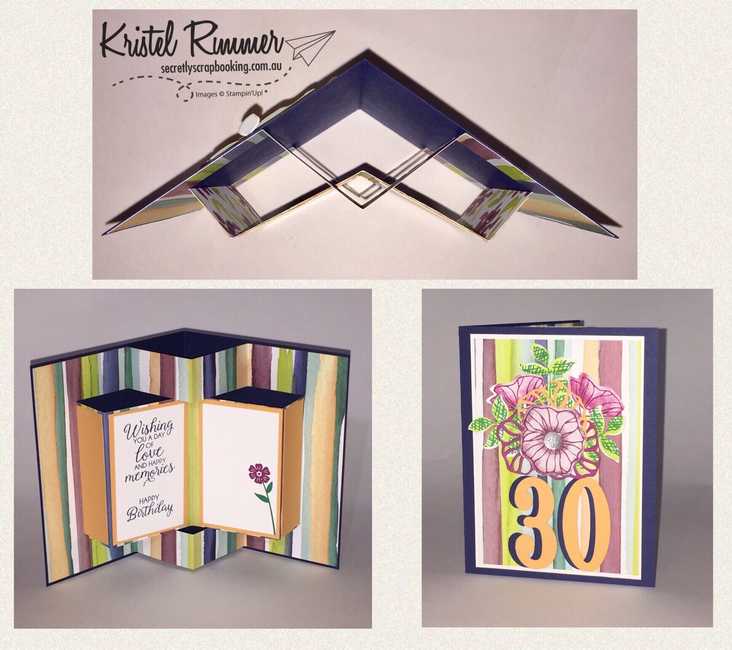 Last but not least the cute fancy fold book card. I decided for this I would keep it in the theme but use a different colour DSP out of the Naturally Eclectic DSP collection. Even though this looks quite spectacular it isn't all that hard to make but you just need to pay attention to where you need to cut and fold. Once again for the Flower feature I used the Eclectic Layers Thinlits, Oh So Eclectic Stamp Set and Faceted Gems Clear Embellishment. I also thought as it was a special birthday I would add the age using the Large Letters framelits. I cut out numbers in the Night Of Navy and Peekaboo Peach cardstock which I layered using some dimensionals so It gave a shadowing look.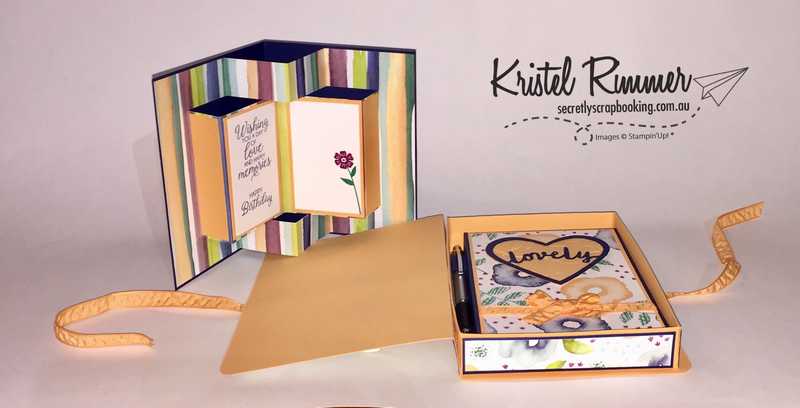 I hope you liked reading about these items today, they were a new challenge for me as I had not made any of these items before. I have to say I love setting myself new challenges...but next time I won't be trying these types at the last minute I really don't love trying to work out measurements at 1am in the morning. Be aware that to make these I used the following YouTube links as a basis for my designs:
Thanks for reading my post now it's time to follow the blog hop onto our next lovely participant, Narelle. I hope you enjoyed my blog.....it's time for me to go back to Secretly Scrapbooking!
Stella Xx
Bunbury, WA
Join | Shop | Candle Product List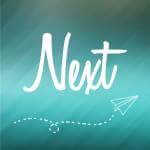 Secretly Scrapbooking Home |
Jump To Product List |
Jump To Comments
---
Product List
Note: All prices are shown in Australian Dollars
---