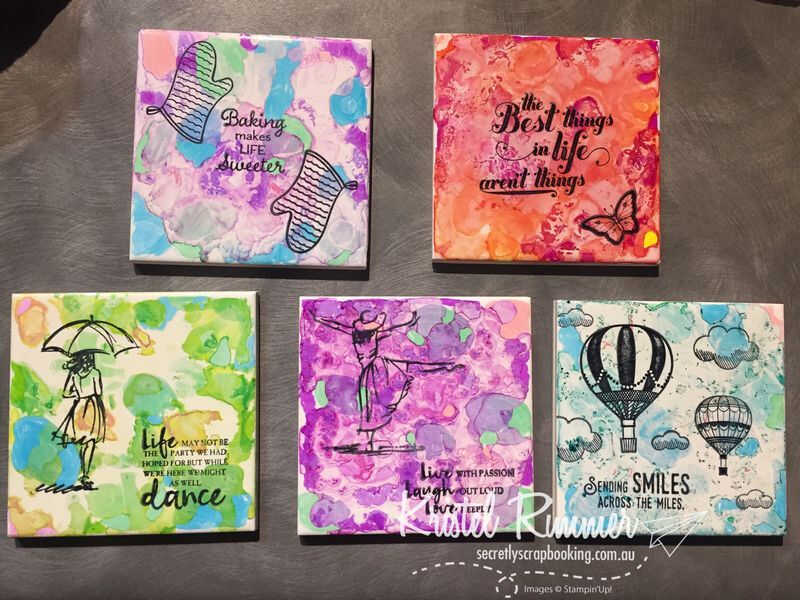 Seeing as Mother's Day is just around the corner I wanted to experiment with a new concept that uses ceramic tiles, ink and stamps. I wanted to make something to give to those who I care about which I thought would be a great gift to sell as well as individual or sets.
Note: This blog post contains products purchased from Stampin' Up!®.
I've made a number of tiles so far with different types of tiles, different color combinations and stamp sets which has resulted in a great range of tiles which I have been making into coasters. I think they would also be great to feature on a wooden easel or to hang on a wall in a series i.e a set of 3 hanging vertically or side by side.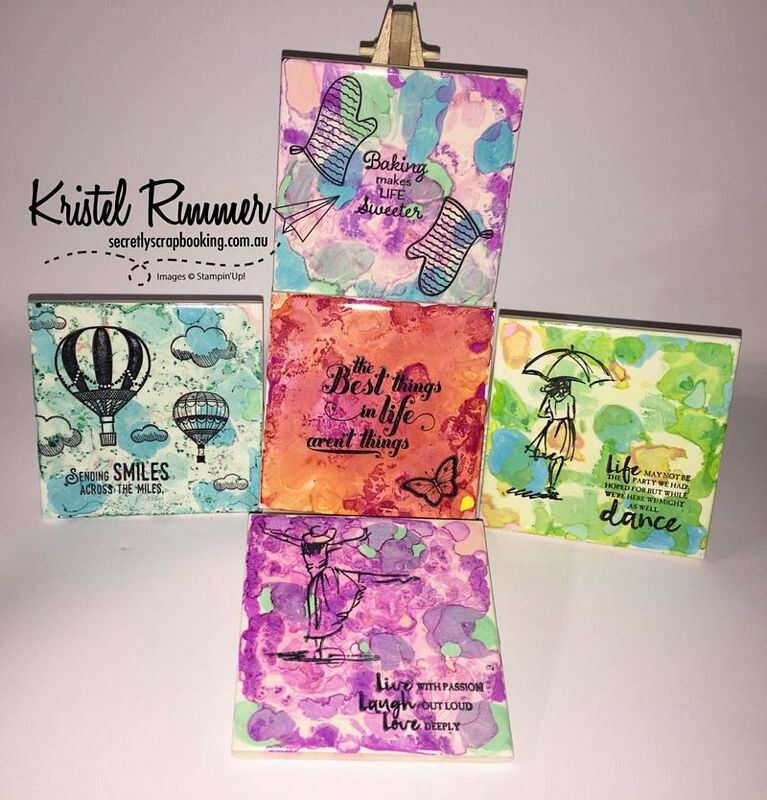 This concept I stumbled onto while browsing YouTube and I warn you now that making these tiles is a very lengthy process. It takes a number of days to make just one tile due to drying times etc. The materials required to make these will take you to a hardware store, tile stores, office suppliers and even supermarkets in the hunt for the tiles you need, the colored inks for the base and the chemicals to coat the tiles with. See the end of the post for a link to the you tube video if you want to see the in depth method of how to make these.
What I love about these tiles is that no matter how hard you try no two come out the same and even making them similar is a challenge even if you place your ink on the tiles the same. My tiles came out nothing like the YouTube video and I found
that even using similar products made a massive difference to how the end product looks.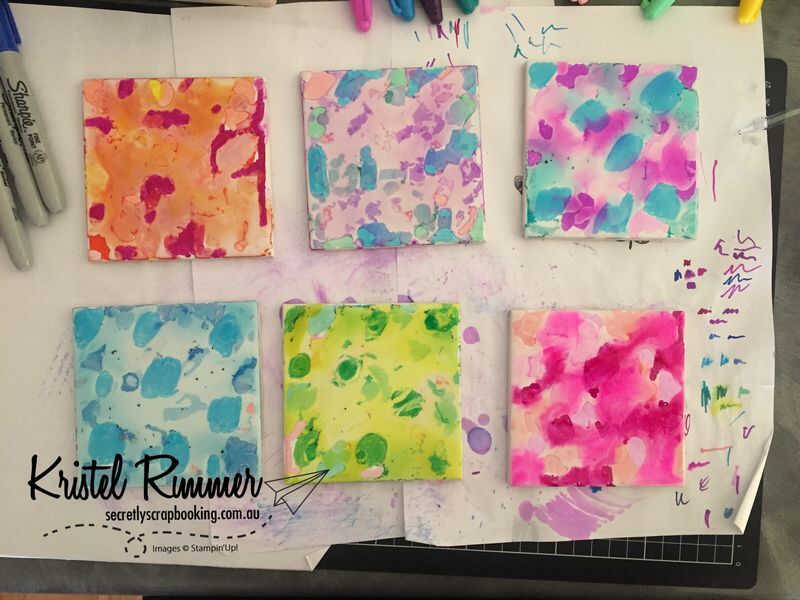 I took the idea in a different direction and thought I'd try different methods on the tiles below including simply stamping and adding basic color to the tiles to see how these would go. I used the Stampin' Up! Write Markers and Stampin' Up! Stayz' On Ink (Retired).
As you can see these turned out great as well and even though they are simple they would add a nice touch to any coffee table or garage :)
I've played around with displaying these as well using a wood easel I had picked up for displaying cards at the markets.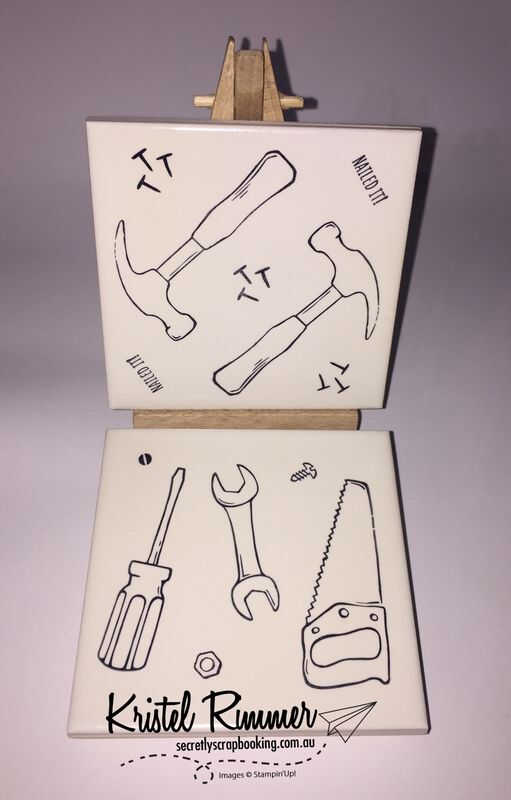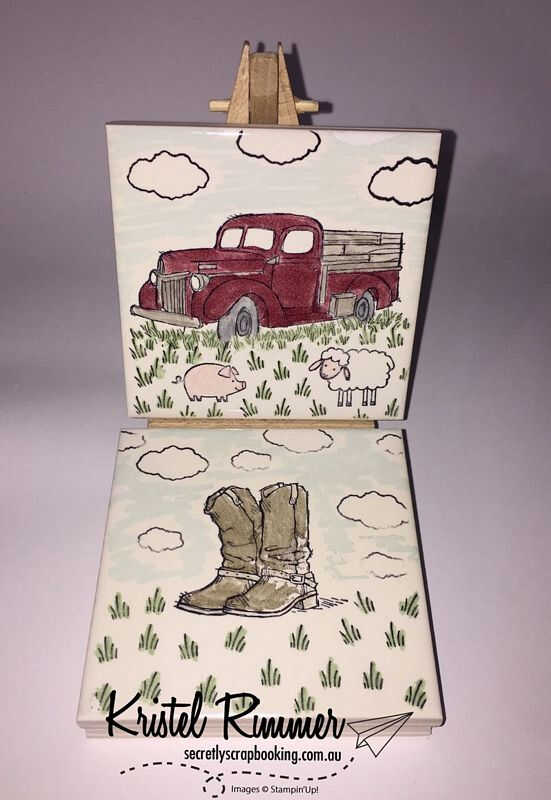 I'm really happy with the way they have turned out and I've had lots of positive feedback and in fact I made some of these into coasters as a gift recently.
I hope you liked reading my post as I really love these tiles and it was fun making them. If you or someone you know would like an individual or set of tiles then I would be happy to sell you some but keep in mind that it will take about a week for them to be made into a coaster capable of withstanding a hot coffee.
If you'd like to take you own hand to them then I suggest lots and lots of patience and watching this video a kind lady has put up here.
Now.....it's time for me to go back to Secretly Scrapbooking!
Stella Xx
Bunbury, WA
Join | Shop | Candle Product List
---