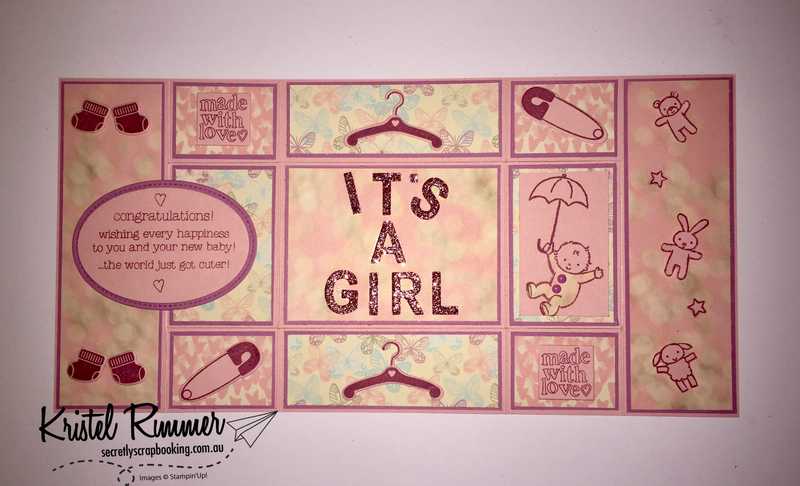 Welcome to my blog, today I would like to share with you a special Tri-Fold / Tri-Shutter card I made for my downline who recently had a gorgeous little baby girl. I thought it would be nice to spoil her with a special card and gift (flowers and baby products). In case you are not aware this is not the first time that I've made this type of card, I made a male version for a 60th which you can see here.
Note: This blog post contains products purchased from Stampin' Up!®.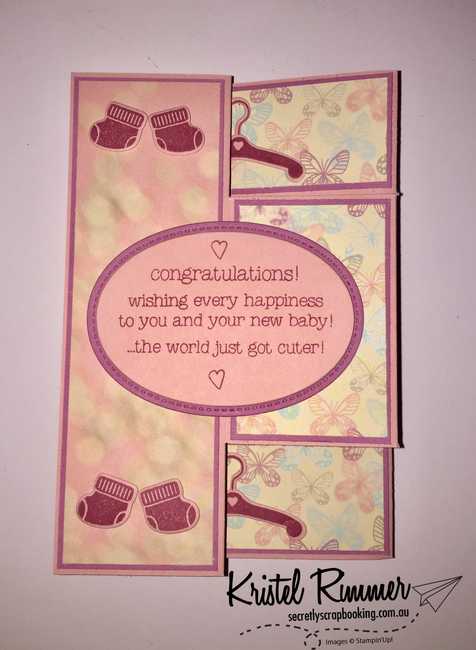 I like this fancy fold card as it looks quite spectacular when opened out but it also folds up to fit in a C5 standard envelope for posting. I love how all the colours matched so well together but it was hard to decide on the DSP as I wanted a few colours throughout the card. I've used Sweet Sugar Plum and Blushing Bride cardstock for the base and the lovely retired Falling In Love DSP as it fitted perfectly with what I had in mind. I used a range of current and retired stamp sets and framelits to make this card. From the current catalogue I have used the Moonlight Baby stamp set, the remaining sets are retired and include Made With Love stamp set, Something For Baby stamp set and the Baby's First Framelits.
I took this photo to show you what the card looks like from the top when folded out. This card stands stable when expanded.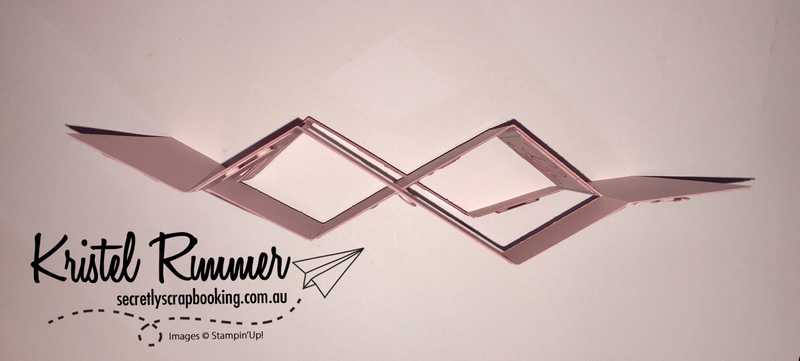 Lucky me, I got my hands on some Blushing Bride glimmer paper from the retired list before it closed which is what I used to create the internal centre piece "It's A Girl" which matches in perfectly with the DSP and cardstock. The front centre piece is actually a combination of four stamps from the retired Made With Love stamp set which is exactly the sentiment I wanted!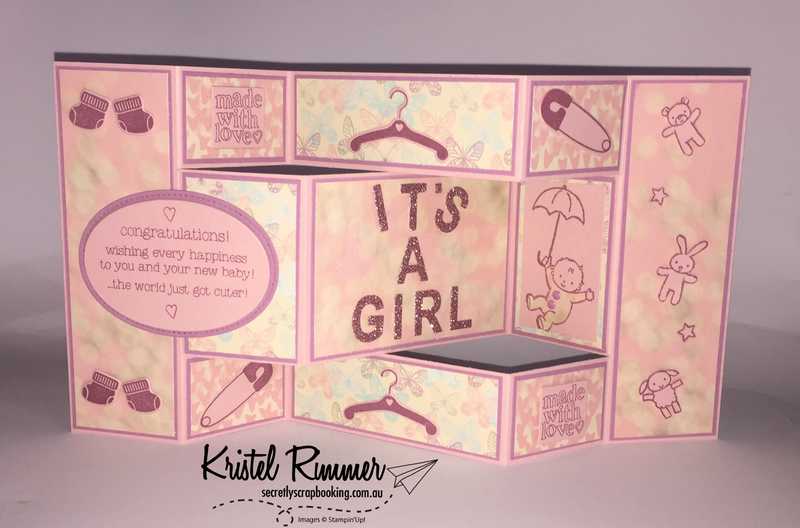 While alot of this card is made using retired stamp sets and DSP I wanted to show off the card style and various techniques. I think we have some great products this year that are amazing and you choose to explore ways to use some of them in new and interesting ways too!
Hopefully I have inspired you to try making your own Tri-Shutter card. Be aware that to make this card I used the following YouTube links as a basis for my design:
In case you aren't aware yet there is a Christmas In July promotion available if you're interested in becoming a demonstrator, the link is here. I would love to have you join my team and be part of making and sharing alongside me...blogging is optional in case you are wondering.
If you are interested in finding out more about what I've made, would like to have something made for a special occasion or simply want to talk crafting then feel free to contact me. Now it's time for me to go back to Secretly Scrapbooking!
Stella Xx
Bunbury, WA
Join | Shop | Candle Product List
---