ESAD Retirement List Blog Hop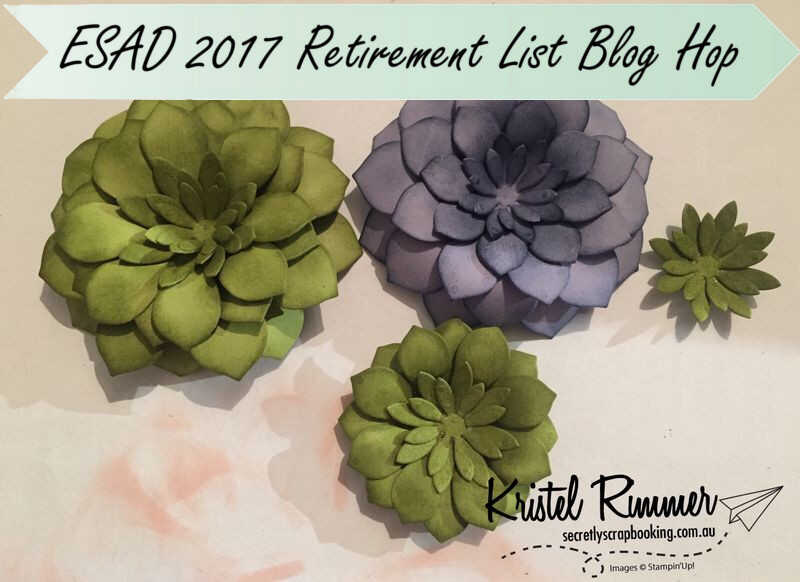 Hi everyone I would just like to say I'm super excited to be able to participate in my first ever ESAD Blog Hop.
Note: This blog post contains products purchased from Stampin' Up!®.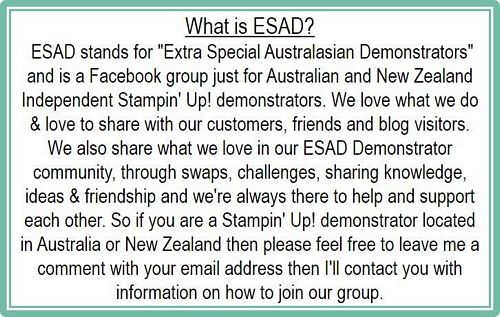 Today we'll be sharing our favourite annual 2017 catalogue retirement sets which can be found online here. Be sure to check out the retirement list which closes in August 2017 as some select items are up to 50% off but make sure you get in quick if there is something you like as once the items are sold out they are gone. Please feel free to contact me if you need any help with this.
So today I would like to share with you one of my favourite sets that I have used, the Oh So Succulent bundle which have used to make a card and a flower pot. The card and small flower that I'm showing in my blog today is for a very special friend of the family who means a lot to us. For the card I have also used the It's Your Birthday and Here's To Another Year Full Of Adventure from the Balloon Adventures Stamp Set. I chose the Oh So Succulent Stamp Set and Framelits as I think this set is so versatile and I wanted it to match my little flower pot I made.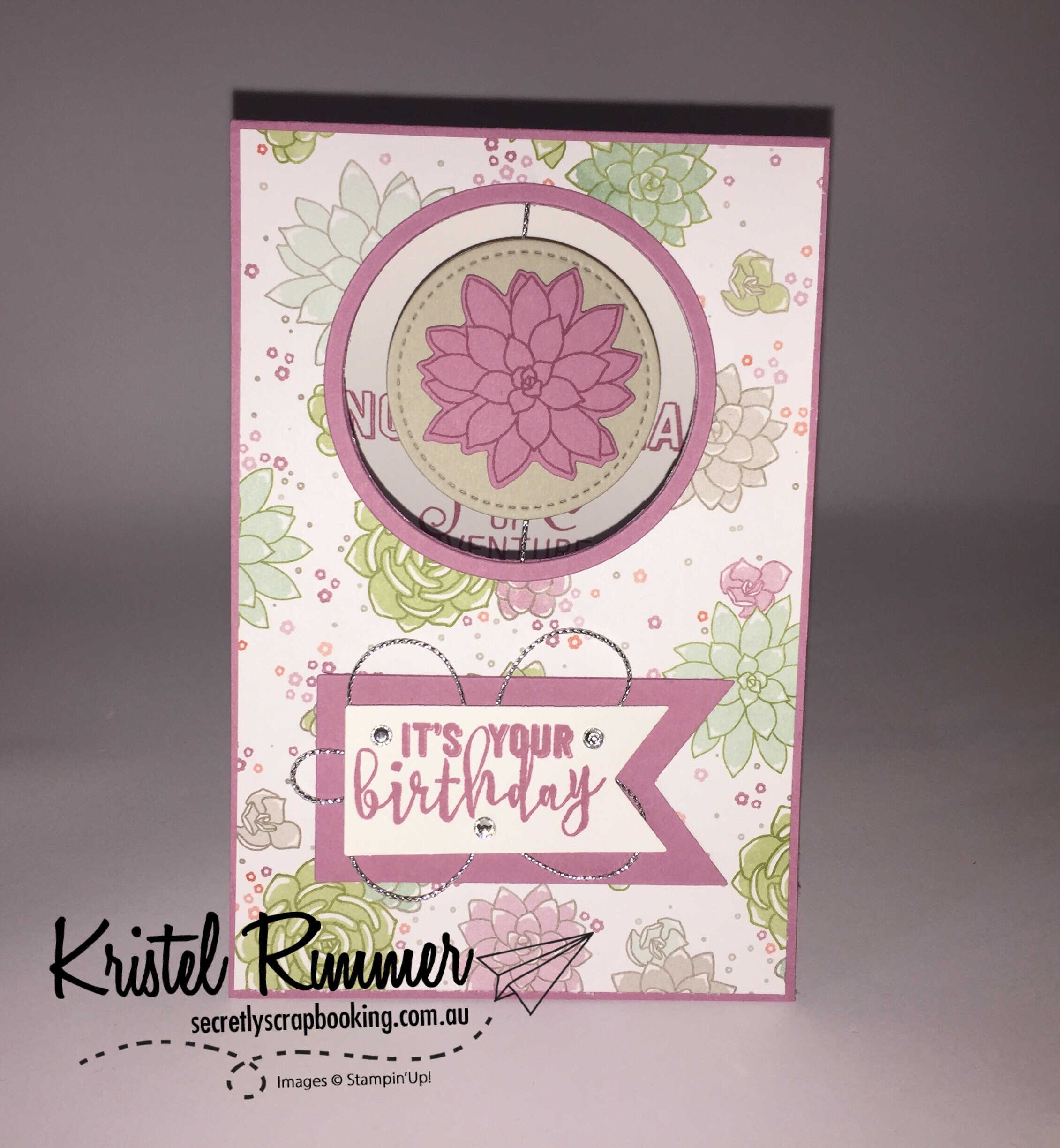 The card I made today I wanted to make as it had a spinner feature which I hadn't tried before. The card consists of the Oh So Succulent DSP and Sweet sugarplum cardstock which works well together and I jazzed it up with some diamontes. When deciding on the colours I picked the DSP first and matched the cardstock with the DSP. After making this card I noticed that you can see the writing to the centre of the card so if you prefer not to see this you would need to stamp the inside sentiment a little lower so you can't see it through the spinner.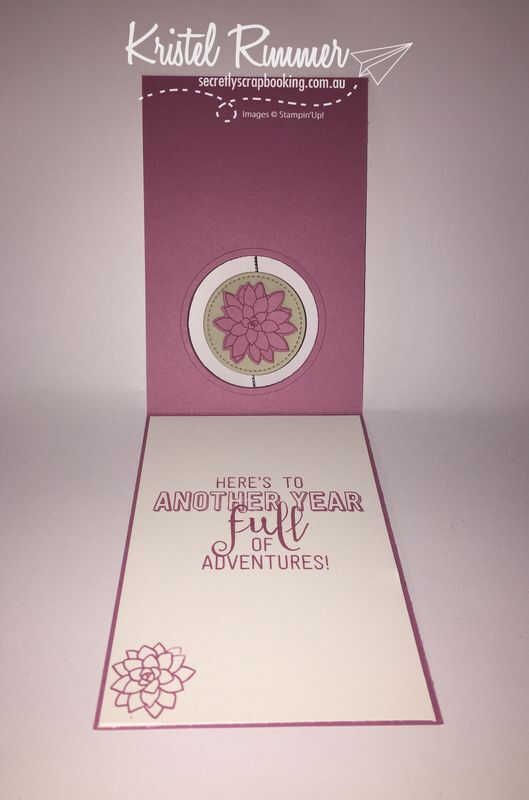 The matching flower pot I made was made using a miniature terracotta pot I purchased elsewhere and mounted the Oh So Succulent flower I created to it decorating it with fake moss and cute bit of matching ribbon with a backing of a hessian style ribbon.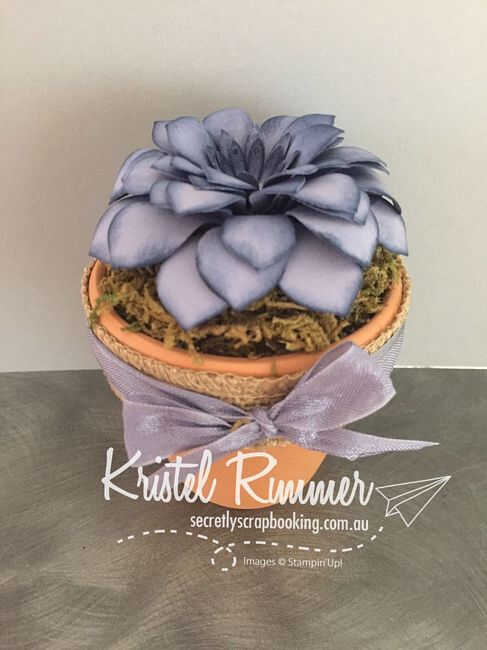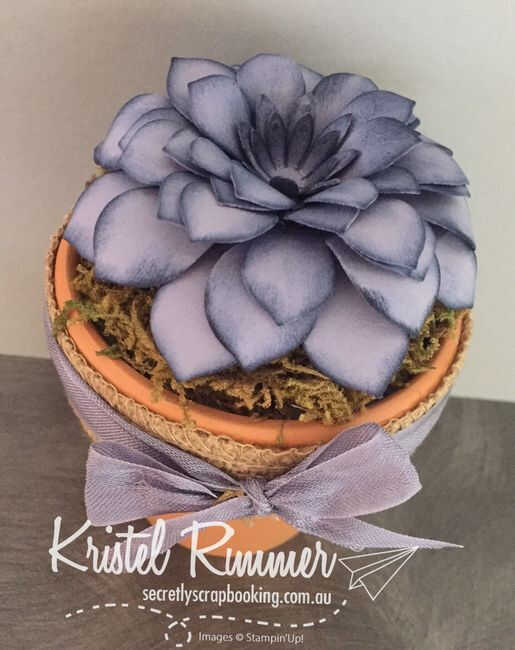 I've used this bundle several times to create different projects including the larger flower pots pictured below. This is one of the reasons I love this set as these are great 3D projects and gifts that can be made although time consuming they work so well together. Please feel free to contact me if you would like some more information on anything I've spoken about but I really feel this would be a fun set to have on hand.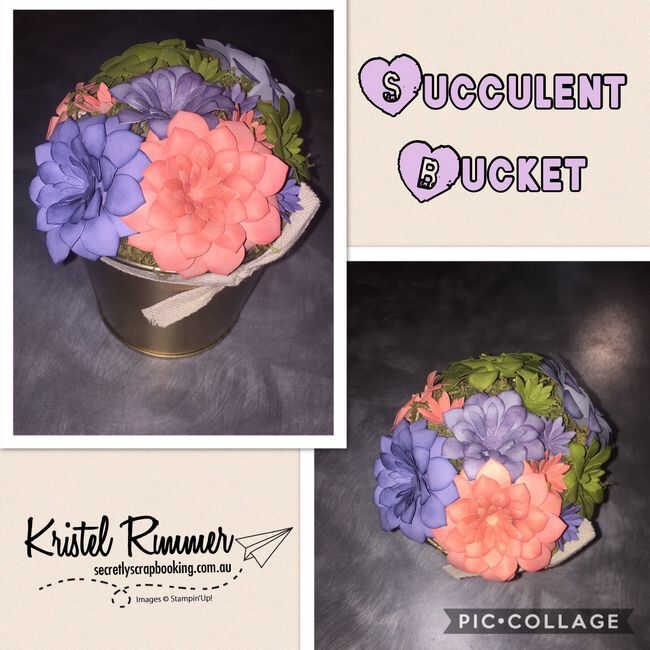 What's exciting is that as a Demo who attended OnStage 2017 I've been able to pre-order alot of the new products from the new Annual Catalogue and excited to open my little box of goodies. In case you were not aware Demo's who did not attend OnStage are now able to order from the Annual Catalogue ahead of the public release which is in roughly 2 weeks time. Not a bad reason to become a Demo if your not already.
Thanks for reading my post but now it's time to follow the blog hop onto our next lovely participant, Tanya Bell. I hope you enjoyed my blog.....it's time for me to go back to Secretly Scrapbooking!
Stella Xx
Bunbury, WA
Join | Shop | Candle Product List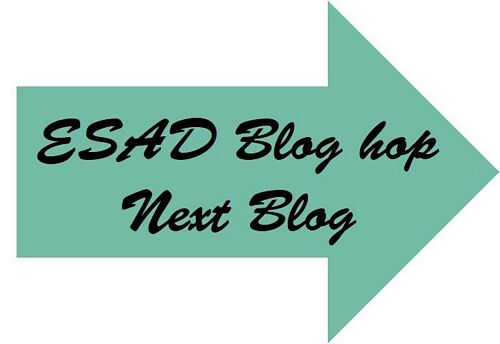 Secretly Scrapbooking Home |
Jump To Comments
---