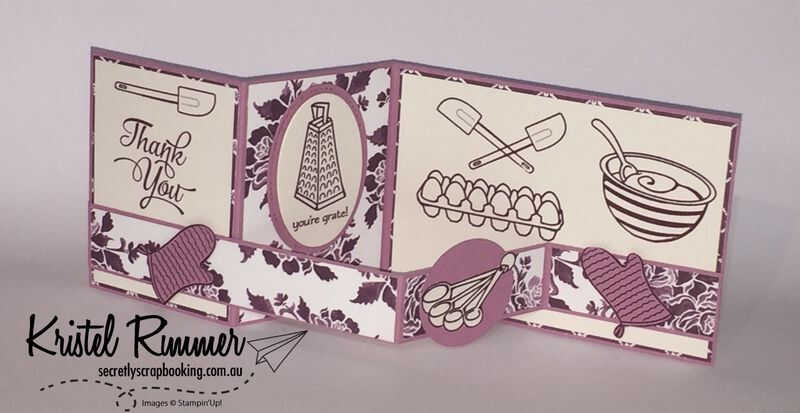 Hi and welcome to the Double Z Cards Galore Blog Post! I have been making Double Z cards for a while now and I thought that it was time to shown off some more designs. I first made Double Z Cards earlier this year for the ESAD Eastern Palace Blog Hop and the Mother's Day Theme Blog Post. I love the Double Z Fancy Fold Cards as you can do so much with them and they are great if you want to add some extra decorations or if you want to have something display worthy that is stable.
Note: This blog post contains products purchased from Stampin' Up!®. Latest Catalogue is here.
I made this card as a thank you for a tupperware party that was hosted by a friend. I really enjoyed making this card and thought it would even be a great gift for someone who loves making you special treats such as your grandma, mum or even dad (you know he loves pink). I used Sweet Sugarplum cardstock with Fresh Florals DSP and inked up the stamps with Fresh Fig which matched in quite well. The Perfect Mix stamp set that I used throughout this card has unfortunately been retired in May 2017 but it was absolutely perfect for this theme. The thank you sentiment on the front of the card came from the One Big Meaning stamp set which is still available.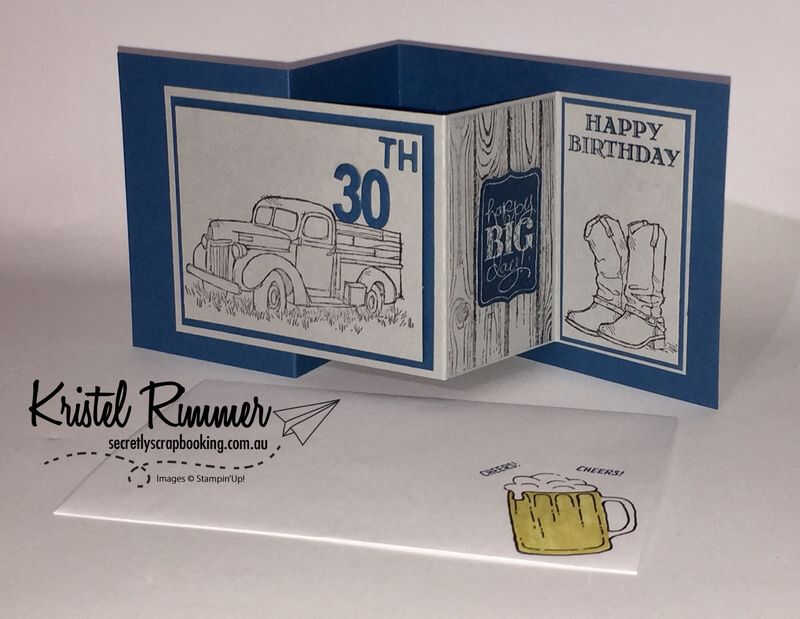 This next card I am showing off was a custom order for a male 30th. I am always happy to take orders if there is something in particular someone is looking to have made for a special occasion. In this case I was asked to make a country guy who loved all things country a special 30th card. For this card I have stamped images rather then using DSP and I thought it would be nice to have a matching envelope as well. As you can see I have used primarily Dapper Denim and whisper white cardstock with the Country Livin' stamp set which fits the theme nicely. The centre panel was made using a combination of the retired Chalk Talk stamp set for the sentiment and the Hardwood wood look effect stamp. The back inside panel was achieved using the Country Livin' stamp set for the boots and the happy birthday was from the Guy Greetings stamp set. To make room for writing I added another panel to the rear of the card featuring the Mixed Drinks and the sentiment from the retired stamp set Balloon Adventures. The beer stamp was carried through from the rear panel to the envelope with a couple of "Cheers!" stamps with the mug being coloured yellow by hand using markers.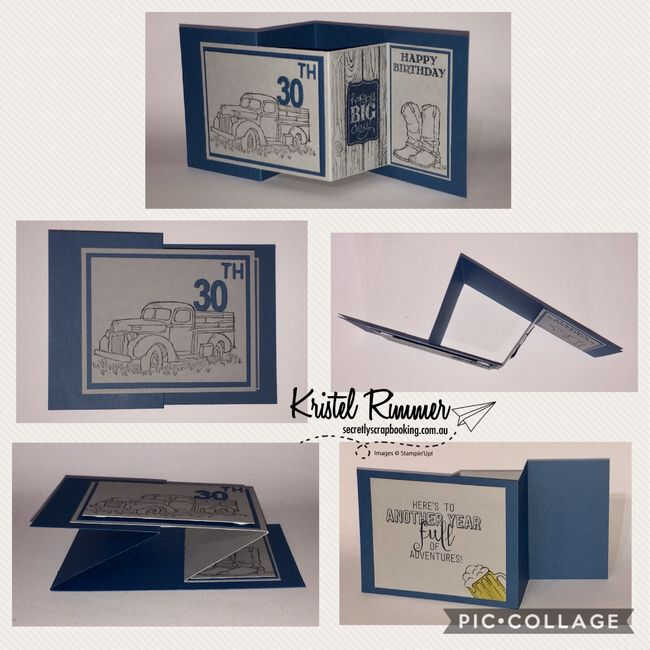 I have come to love these types of fancy fold cards which I'm sure could be adapted to so many ideas. I thought I would make it easy and provide the YouTube link I used as a basis for my first ever Double Z Fancy Fold Card:
I hope you enjoyed seeing what I have done with this concept and hopefully this leads to you finding new and exciting ways to make cards you have made before. If you are interested in finding out more about what I made, would like to have something made for a special occasion or simply want to talk crafting then feel free to contact me. Now it's time for me to go back to Secretly Scrapbooking!
Stella Xx
Bunbury, WA
Join | Shop | Candle Product List
---