Hi everyone, I would just like to make you aware of an amazing promotion being run by Stampin' Up!® this month called Christmas In July! This promotion is being run for those who are not already demonstrators and is an awesome way to get a little extra for making the move. If you have considered being a demonstrator before then the flyer is here otherwise I recommend reading on.
However just to enrich the lives of demonstrators and customers alike they are also running another promotion: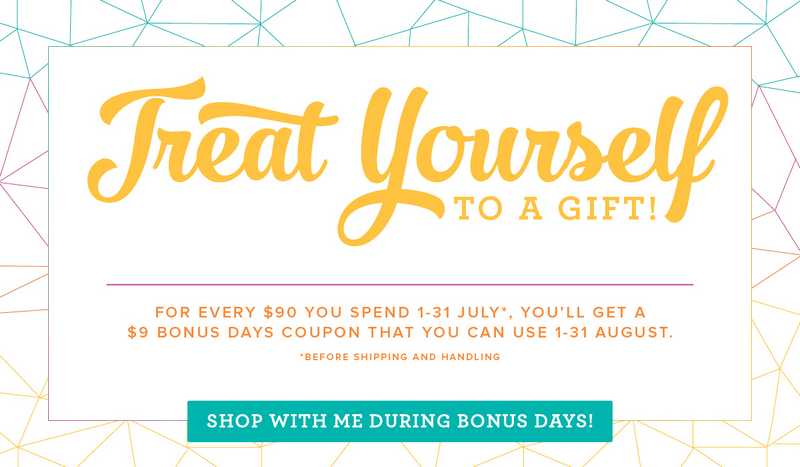 Just thinking about it gets me reaching for the catalogue...
Now back to the Christmas In July Promo!
If you are reading this and wondering what being a demonstrator for Stampin' Up! is all about I'm here to tell you that I personally do not consider it to be a burden and more of an advantage. I joined Stampin' Up! as a demonstrator originally because I loved scrapbooking and joining gave me a discount. I wanted to follow a company that had great products and helped me enjoy what I loved.
Stampin' Up! is a direct selling company, meaning it sells it's goods through demonstrators or direct and not through permanent retail locations. Being a demonstrator for Stampin' Up! is not like other sales driven companies, it is as much or as little as you want it to be. There are:
No minimum number of workshops, demonstrations or parties.

No minimum customer numbers (you can just buy for yourself and take advantage of the minimum 20% discount).

No minimum time commitment.

No penalty if being a Stampin' Up! demonstrator doesn't suit you.
New demonstrators are placed under an existing demonstrator who can guide you and support you in how to get the most from Stampin' Up! with as much or little interaction as you want to:
Support to run your business including using the online systems, placing orders, running workshops and even creating a blog (if you want this);
Discounts on all Stampin' Up! products, earn money by selling products, great incentives and access to new products first;
Opportunities to build your hobby into a business (if you're interested), work your own hours and meet lots of great people; and
Join a community of crafters / scrapbookers and access various online forums and exclusive Facebook pages.
If this all sounds great I'm sure you're wondering what it costs so here is the break down.
Cost of AUD$169, from here you can operate as a demonstrator or you can simply have your hobby;
Per quarter you are required to spend 300CSV which is approximately AUD$454 catalogue value (or approximately AUD$38 / Week); and
For your sign up fee you can choose a AUD$235 valued full customised starter kit with free shipping.
When you join in July you receive a further AUD$121 of products as per the flyer... that's a total of AUD$356 of value.
Remember that if you don't meet your quarterly sales target then this simply means you drop as being a demonstrator but doesn't stop you from rejoining next quarter or ordering from your upline.
If this sounds like what you're after or you'd like to find out a bit more then please contact me via:
e-mail: kristel.rimmer@gmail.com
facebook: https://www.facebook.com/kristelrimmerStampinup
OR
Check out the website: Stampin' Up! - Join / Become A Demonstrator
If you want sign up online as a demonstrator under me then you can use this link or find me in the Demonstrator Directory by entering "Kristel Rimmer, WA". You are free to sign up under any current demonstrator, but once you select an upline, it's not possible to change. To join now under me click here
If you'd like to see the official Stampin' Up flyer for becoming a demonstrator you can find it here
I hope this post has been helpful to you and thanks for taking the time to read it. Now it's time for me to go back to Secretly Scrapbooking!
Stella Xx
Bunbury, WA
Join | Shop | Candle Product List
---